Bio
Who am I? Am I a filmmaker, a writer, a speaker, or an activist? Well, I consider myself to be all of those things. Mostly, I am a humanitarian who cares about the voiceless and the oppressed. I don't fall into one particular category, so I won't box myself in, or force any labels on myself. I am a communicator and educator by nature, and I use multi-media platforms to reach my audiences. Take a look at my bio to learn more about who I am and my life experiences. Feel free to download either my long or short bio for publications or event introductions.
Download Gender Violence Prevention Bio
Download Filmmaker Bio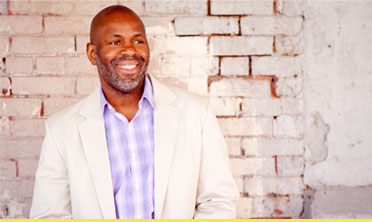 Byron Hurt combines his award-winning documentary films with a dynamic speaking style that challenges audiences to question gender, race, and class in American culture.
Byron's highly acclaimed documentary Hip-Hop: Beyond Beats and Rhymes, premiered at the Sundance Film Festival and broadcast nationally on PBS' Emmy award-winning series Independent Lens. His film Soul Food Junkies won best documentary at several film festivals, and also premiered on Independent Lens. Byron's upcoming documentary Hazing, is intended for a national PBS Broadcast on Independent Lens. His short films include If Five-0 Shoots and Barack & Curtis.
As a result of his decades-long work as a filmmaker and activist, Byron is widely recognized as a leading voice in the fields of independent filmmaking and gender violence prevention. He serves as an adjunct professor at Columbia University, and was a filmmaker-in-residence at American University.
Byron's gender violence prevention lectures focus on how hyper-masculinity in popular culture normalizes male violence; how commonalities between race, class, and gender link oppression; how homophobia and transphobia make LGBT communities vulnerable to male violence; how positive male leadership and bystander intervention can end gender-based violence; and how to use cis male privilege to ally with women and girls to redefine masculinity and promote healthy relationships.
Byron has over two decades of experience navigating discussions about masculinity with high-profiled NCAA athletes, members of the U.S. military, fraternities, and everyday men and women throughout the world. He strengthened and honed his progressive gender politics while working with the Mentors in Violence Prevention Program (MVP), and pioneering the Bystander Intervention Program he co-founded with Jackson Katz, Ph.D.
Byron's writings have been published in several anthologies, including Michael Eric Dyson's "Know What I Mean?" Kevin Powell's "The Black Male Handbook," April R. Silver's "Be A Father to Your Child," Richard Lapchick's "Sport in Society," Shira Tarrant's "Men Speak Out," as well as CNN.com, TheRoot.com, TheGrio.com, and Colorlines.com.
Byron has been featured in various media publications ranging from The New York Times, Wall Street Journal, The Washington Post, The Los Angeles Times, The Atlanta Journal-Constitution; O, The Oprah Magazine, Mother Jones, The Chronicle for Higher Education, Black Enterprise, and The Source and Double XL Magazines. He has also appeared or been heard on MSNBC, NPR, PBS, CNN, FOX News, FOX Soul, Access Hollywood, MTV, BET, ABC News World Tonight, NBC-New York, and C-Span.